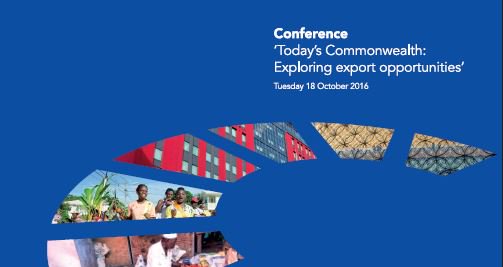 Join the Birmingham Commonwealth Association's (BCA) Conference on Tuesday, 18 October 2016 from 09:00 to 16:30 (BST) in Birmingham and follow the Commonwealth Road to global export success.
Further information and registration here.
53 countries, a common language and legal structure, 2.1 billion people, a cost saving of between 10-15% on trading with Commonwealth countries compared to similar dealings with non-Commonwealth countries of comparable size and GDP. This conference is designed to give business a road map to optimising opportunities within the Commonwealth. Certainly the economic case for strengthening our relationship with the Commonwealth is clear in light of the EU referendum result.
Speakers and Panel Discussion Members:
Ruth Lea, CBE: Patron of the Birmingham Commonwealth Association; Economic Adviser, Arbuthnot Banking Group
Deborah Leary, OBE: Director, Commonwealth Businesswomen's Network; CEO, Forensic Pathways and Commonwealth First Mentor
Ian Stokes: Managing Director, StadiArena
Keith Stokes-Smith: Chairman, Birmingham Commonwealth Association
Lord Marland: Chairman, Commonwealth Enterprise and Investment Council
Professor Louise Toner: Associate Dean, Birmingham City University
Mark Sankey: Head of International Trade Team, Greater Birmingham Chambers of Commerce
Martin Levermore, MBE: Chairman, Birmingham Commonwealth Association's Trade and Business Group; CEO, Medical Devices Technology International Ltd.
Mike Murray: International Affairs Manager, European and International Affairs Team, Birmingham City Council
Paul Kehoe: CEO, Birmingham Airport
Peter McLintock: Corporate Partner, Mills & Reeve, Solicitors
Sir John Peace: Chairman, "Midlands Engine"; Standard Chartered plc. and Burberry Group plc
Find the detailed programme here.