Join  the first keynote speech of the Climate KIC project's speaker series at Innovation Birmingham Campus on Tuesday, 4 October 2016 from 5pm to 8pm (BST).
This entrepreneur focused keynote series will educate and inspire delegates who are looking to grow and develop their business or start-up. These events are free to attend.
Registration prior to the event is required.
Agenda:
7:00 – 17:30      Registration and Welcome
17:30 – 17:40    Intro by John Cooke, Entrepreneur, Coach and Mentor
17:40 – 18:15    Speech by James Alexander
18:15 – 19:00    Q&A with James Alexander
19:00 – 20:00    Networking with food and drinks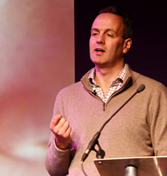 James Alexander is an experienced entrepreneur and business advisor. He is currently a core team member of FutureAgenda.org, the world's largest open foresight programme and an advisor to a number of innovative finance payers including Seedrs, Spacehive, LandBay and Tandem. He also advises a number of social ventures and charities including the RSPB (where he was previously a Trustee), the GoodLab, GreenThing and as Chair of Gen Community Ventures.
James was previously a co-founder and Executive Director of Zopa, the world's first and Europe's largest P2P lender, and prior to this Strategy Director at Egg.
He has also worked as a growth strategy consultant at both The Foundation and LEK Consulting, where his clients included Tesco, Eurostar, Barclays, HSBC, Save the Children, The Guardian, Redburn, M&S and Just Giving.
James holds an MBA from INSEAD and a 1st class honours degree from University College, London.